The Enigmatic Joan Lindsay | Art from an Australian Treasure
As a young woman, Australian artist and author Joan Lindsay studied painting under Frederick McCubbin, whose adrift Victorian figures certainly imparted an impression.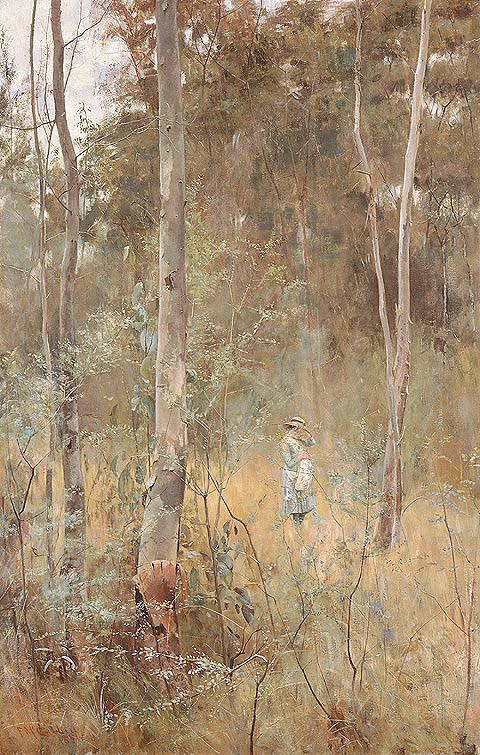 Lost 1896 by Frederick McCubbin in the collection of the National Gallery of Victoria
Before she could be recognised for her paintings however, Joan a Beckett married Daryl Lindsay - from the famous Lindsay artistic family - and eventual director of the National Gallery of Victoria. Post wedding, Daryl discouraged his wife's art, urging her instead, to write and garden. This reluctance to recognise women as artists was not unique to Sir Lindsay but instead, part of a pervasive patriarchal attitude that only in the light of history can be rightfully redressed.
Two years prior to writing Picnic at Hanging Rock, Joan Lindsay painted Lillies.
In both, lines are curved rather than linear and a hold on what's real threatens to slip through the spectator's fingers. In Picnic at Hanging Rock, four schoolgirls disappear into the Australian bush, while in this painting on offer, lillies swirl together in a setting beyond the physical plane. Both are enigmatic. And both reflect their creator - a woman who was as mysterious and formidable as the art she bore.
Despite shifting away from art, Joan Lindsay carried her aesthetic to writing. In Picnic at Hanging Rock, her words have the quality of paint - courting a heady dreaminess that makes it hard to chart how time travels. This suits its author, a woman who reportedly made watches stop in her presence. Indeed, Lady Joan Lindsay flirted with the spectral. She refused to admit how much of her novel was fiction and in one perplexing encounter, tearily met the actress who played Miranda with a declaration of "Oh Miranda! It's been too long".
With time in mind, Lillies becomes a Saṃsāra, or cycle of life. Coiling under an imaginary sun, these flowers are as distant as a memory and as immersive as a dream. This ethereality epitomises Lady Lindsay's work. Softly lit, draped in muslin and enraptured by femininity, her vision for the gothic was as sweet, as it was haunting. Her contributions to our culture were not only singular, they have withstood the test of time - suggesting that unlike her prone girls, Lady Joan Lindsay will not vanish into the Australian psyche.
A Guide to Joan Lindsay
Next time you are touring Victoria's Mornington Peninsula, why not journey to Mulberry Hill - the home of Sir Daryl and Lady Joan Lindsay. Now a National Trust destination, this grand old house offers a window into their lives and times.
Mulberry Hill
You can also check out the 2018 television adaptation of Picnic at Hanging Rock on Showcase, or revisit the iconic 1975 film. Both are totally bewitching. In 2017, in celebration of fifty years since publishing the novel Picnic at Hanging Rock Janelle McCulloch released a biography of Joan Lindsay entitled 'Beyond the Rock' that is worth reading too.
To read more about the stranger than fiction life of Joan Lindsay, click here or here.  
Lillies is not only a bewitching painting, it is rich with story, history and persisting cultural significance. Large, impressive and epitomising Lady Joan Lindsay's style, it is also exceedingly rare - making this opportunity, as seldom as it is special.